Respect Life Ministry
The Respect Life Ministry (RLM) supports a culture of life through education, public policy, pastoral care, prayer and almsgiving.
Welcome!
The Respect Life Ministry at St. Edna "proclaims that human life is a precious gift from God; that each person who receives this gift has responsibilities toward God, self and others; and that society, through its laws and social institutions, must protect and nurture human life at every stage of its existence."
Live the Gospel of  Life
     "The Gospel of Life is at the heart of Jesus' message."
        Pope St. John Paul II (EV1)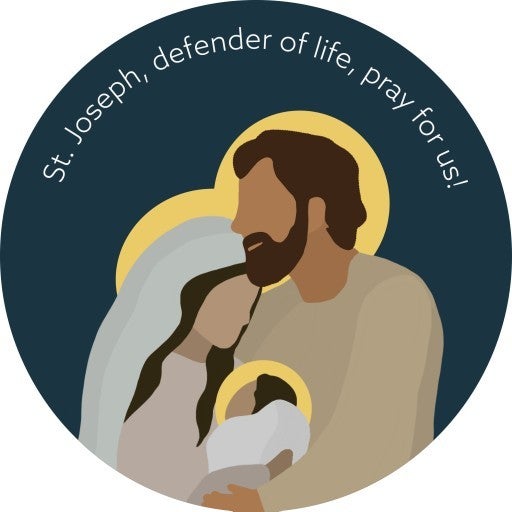 United States of Catholic Conference of Bishops
promote Respect Life with a new theme each year, this year
October 3, 2021 titled, "St. Joseph, defender of Life, pray for us".
During this Year of St. Joseph, each of us can find "an intecessor, a support
a guide in times of trouble". St. Joseph shows us how to say "yes" to Life
despite our own fears, frailities and weaknesses.
For it was Joseph who was "chosen by God to guide the beginnings
of the history of redemption.  He was the
true "miracle" by which God saves the child and his mother". 
May we, too, be miracles of the lives of those who are most in need,
especially at the beginning and end of life. 
Dear St. Joseph, you who were "able to turn a problem into a possibility
by trusting in divine providence" help us to imitate your faithful trust and courage.
https://www.usccb.org/resources/rlp-21-reflection-color-eng.pdf
©2021 by United States Conference of Catholic Bishops.
Secretariat of Pro Life Activities prolife@usccb.org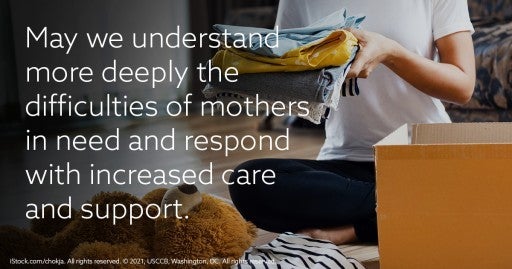 PRAY Our Father, 3 Hail Marys, Glory Be REFLECT Each year on January 1 the Church celebrates the Solemnity of Mary, Holy Mother of God. When we approach the manger to adore the infant Son of God, we cannot help but recognize that Mary is indeed Mother of God. The holy Nativity calls us to meditate more deeply on the mystery that God used the womb of a woman to bring salvation to the world. This feast of Mary reminds us of the great miracle of motherhood, and it reveals how God has elevated and sanctified the vocation of mothers. We therefore invite the Blessed Mother to guide us as we seek a deeper understanding of the difficulties of motherhood. We pray that through her intercession each of our hearts may be renewed with empathy and increased awareness of the challenges that so many mothers face in welcoming and caring for the gift of life. May Our Blessed Mother inspire in us a desire and resolve to increase our compassionate care and support of mothers in need.
 DID YOU KNOW? Each year on January 22, the Church in the United States observes a Day of Prayer for the Legal Protection of Unborn Children (respectlife.org/january-22). As individuals, we are each called to observe this day through the penitential practices of prayer, fasting and/or giving alms.

     A PRAYER FOR PREGNANT MOTHERS
O Blessed Mother, you received the good news of the incarnation of Christ, your Son, with faith and trust.
Grant your protection to all pregnant mothers facing difficulties.
Guide us as we strive to make our parish communities places of welcome and assistance for mothers in need.
Help us become instruments of God's love and compassion.
Mary, Mother of the Church, graciously help us build a culture of life and
a civilization of love, together with all people of good will, to the praise and glory of God, the Creator and lover of life. Amen.
*Cf. 
Evangelium vitae
 105 © Libreria Editrice Vaticana, Vatican City. Adapted with permission. All rights reserved. Copyright © 2019, United States Conference of Catholic Bishops, Washington, D.C. All rights reserved.
The USCCB Secretariat of Pro Life activities calls attention
to numerous human life issues highlighted in liturgies
at St. Edna, through the Archdiocese of Chicago 
Respect Life office and special events.
Of Human Dignity, The Declaration on Religious Freedom at 50. . . 
March 18, 2015, Archbishop Charles J. Chaput, OFM Capuchin, First Things
http://www.firstthings.com/web-exclusives/2015/03/of-human-dignity
Please explore this web site to find out more about the Respect Life Ministry at St. Edna Church, our mission, the issues we are concerned about, and to link to additional information.  We welcome your comments and your support, so please contact us if you would like to learn more about the Ministry.
Our Mission
To promote within our Church Community a culture where every human being is valued and protected at the beginning and end of their human life.  We seek to create awareness of the life affirming positions of the Roman Catholic Church regarding these most vulnerable moments in life.  Ministry activities will respectfully promote education over protest, empathy over indifference, and unity over division.
Thank You
A special heart-felt Thank You to the Women of St. Edna for their generous donation and continued support of
St. Edna's Respect Life Ministry. Your support for Life is appreciated.
 
About Us
Many important Human Concerns Ministries are in place to serve people during moments in life when poverty, illness, or unjust treatment exists.  The Respect Life Ministry is different in that it is concerned, specifically, with those moments when, for the convenience or preference of another, God's gift of Life is prevented from being created, or is deliberately destroyed.
The Catholic Church has specific opinions on these issues which we respect and support.  Our goal, as Catholics, is to create awareness and educate others of the Church's positions on Life issues.
The goals of the Ministry can only be achieved via methods which will be peaceful, cooperative, and consistent with Christ's message that we love one another.  Our approach to this important work will promote:
Education over protest - It is our belief that by sharing the wisdom of the Catholic Faith we will be successful at converting hearts and minds on all life issues.

Empathy over indifference - We will not be indifferent to other viewpoints but will offer an  understanding ear and an open mind to enable meaningful dialog around sensitive life issues.

Unity over division - Through education and dialog, we hope to create a welcoming environment where all points of view can be shared.  Finding common ground among our fellow parisoners will be difficult, but far more meaningful and rewarding, than pointing out obvious differences in opinion.