Sunday Sharing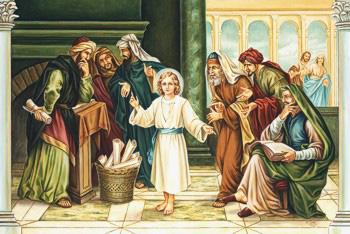 "Did You Not Know I Must Be in My Father's House"
In less than a week's time we have gone from the birth of Jesus to him suddenly being twelve. This seems like a strange story to read on the feast of the Holy Family, especially when next weekend we read the story of the Three Kings visiting the infant Jesus and his parents.
Families are complicated, and Jesus' family was no exception. Like our own families, Mary and Joseph had to face many challenges over the years. This story especially would strike fear in the heart of parents- discovering that your child was missing. When our oldest daughter was almost three she was playing outside at my mother's house with a little boy from down the street. I had been outside with them when he had to leave to go to preschool. I left my daughter outside for a minute and went into the house to get something. When I returned she was no where to be found, and her tricycle was also gone. I looked everywhere. With each passing moment fear built up inside me. I called my parents and husband. They looked everywhere for her, and when we could not find her we called the police. Time seemed to drag but eventually the squad car pulled up with her and her tricycle in the back seat. She was smiling and waving.  The police officer said they found her on the other side of Ela road! Somehow she managed to cross through several backyards and across Ela on her tricycle. My husband and I know what Mary and Joseph must have felt like when they found Jesus after three days.
Why would Jesus do such a thing? We can only imagine his excitement at being able to travel with his parents to Jerusalem to celebrate Passover. He would have been very familiar with the rituals and traditions of his family. Being a family of faith it was only natural that Mary and Joseph would pass their faith on to their son. Luke tells us that Jesus was not only obedient to his parents but that he grew in wisdom. Mary and Joseph role modeled that faith to Jesus and he learned from their example. We too, as parents, Godparents, grandparents, aunts and uncles, are challenged with modeling our own faith in Jesus to the children in our families. We too have been given a church family with many rituals and traditions that need to be passed down from generation to generation. Like our own families the Holy Family was not perfect. They faced many challenges over the years, but their faith in God gave them the strength to continue saying "yes" to God's call.  As families we will face good times and bad, but we can deal with them straightforwardly, "knowing that the relationships we have in this basic human unit are a means to sanctification."
Lorie Crepeau, Pastoral Associate